Mitsubishi Electric Around the World
What's for Lunch? Portugal
Cod Bless Portugal: Portuguese Lunch Staples near the River Tagus
Mitsubishi Electric Europe B.V. — Portuguese Branch
Vasco Horta Correia (right in the photo below) is the commercial and marketing manager for Air Conditioning Systems at the Portuguese Branch Office of Mitsubishi Electric Europe B.V. (MEU). He joined the company in 1998. His main duty is to develop and implement strategies for sales, marketing, communications and the strengthening of the network of ACS installers and agents in the Portuguese market. Vasco usually works at the Portuguese branch office in Lisbon, but periodically travels the country from north to south to visit customers.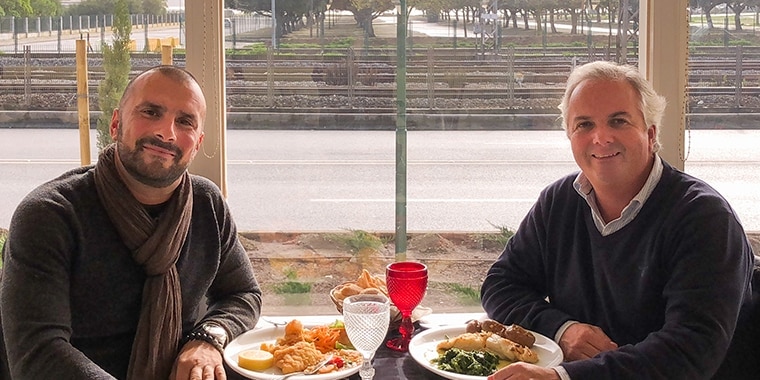 "In our tradition, having lunch means having a conversation and nourishing a sense of fellowship", says Vasco. "So, in Portugal, it's a common business practice to have a working lunch with a customer. It indicates a good relationship. I go out with them on a regular basis".
Today, without any lunch appointment with a client, Vasco invited his colleague Miguel Margarido (left in the photo above) to go out to a restaurant near the River Tagus.
Miguel and Vasco are good lunch buddies who enjoy their meals talking about their interests in common, such as photography, travel, football and technology. "We also take the opportunity to talk about our work, like strategy implementation", says Vasco. "Sometimes, we come up with new ideas during lunch".
Vasco's lunch pattern varies from day to day — ranging from a simple sandwich to a more elaborate meal. He opted for the latter.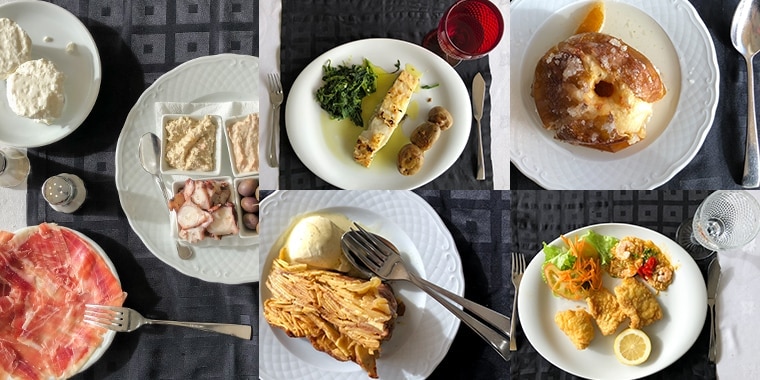 Starters: Vasco and Miguel ordered marinated olives, tuna pâté, crab pâté, octopus salad, queijo fresco (Portuguese fresh cheese) and presunto (Portuguese dry-cured ham).
Main courses: Vasco chose bacalhau à lagareiro com batatas a murro (charcoal-grilled cod in olive oil with 'punched' potatoes) while Miguel chose fish fillets with seafood rice.
Desserts: Vasco chose a baked apple with sugar and cinnamon while Miguel chose an apple tart with vanilla ice cream.
"Each and every one of the dishes we picked is a staple in a common Portuguese lunch. We also enjoy them at home, sometimes", comments Vasco. In particular, he adds, cod plays a key role in Portuguese cuisine.
"Cod is even considered as our national food. People say there are 1001 ways to cook the fish in Portugal", explains Vasco. "Curiously enough, the cod we eat are not caught in the waters off Portugal but in the northernmost part of the North Atlantic. It is very far from Portugal".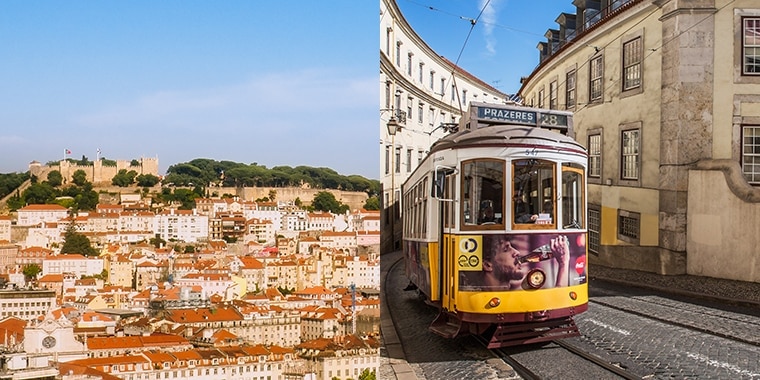 In Lisbon, where MEU's Portuguese branch office is located, its old buildings and structures have recently been renovated to be fit for the modern age. Vasco loves to walk around this modernising city's good old streets and squares with his family and take the nostalgic Eléctrico 28 tram.
Just as its nickname 'the City of Light' suggests, Lisbon is known as one of the sunniest cities in Europe. "To me, Lisbon is 'the City of the Most Beautiful Light'", says Vasco.
---
For more information