Mitsubishi Electric Around the World
What's for Lunch? Korea
Korean Kimchi Stew in Seoul's Central Business District
Mitsubishi Electric Korea Co., Ltd.
Bokyung Kim (second from left) is the assistant manager of the Corporate Planning Department at Mitsubishi Electric Korea Co., Ltd. (MEK). She is involved in a wide variety of important tasks — such as general affairs, accounting, legal work, information technology operations and website maintenance.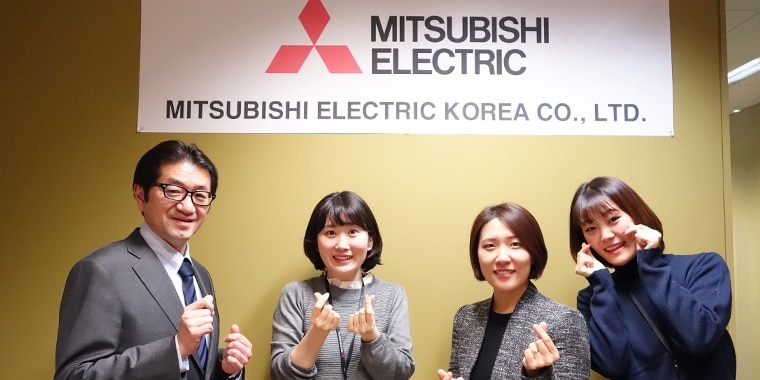 "We're all very close because MEK is a small company. So, except on some special occasions, we go out for lunch all together", says Bokyung.
MEK is located in the heart of the central business district of Gwanghwamun in Seoul. "There are so many restaurants in the area that we always can't decide which one to choose", says Bokyung.
Today, around noon, Bokyung and her colleagues managed to get a table in a Korean restaurant in the area and order a pot of kimchi-jjigae (kimchi stew). Kimchi-jjigae is one of the most popular Korean one-pot meals, whose main ingredient is, of course, kimchi.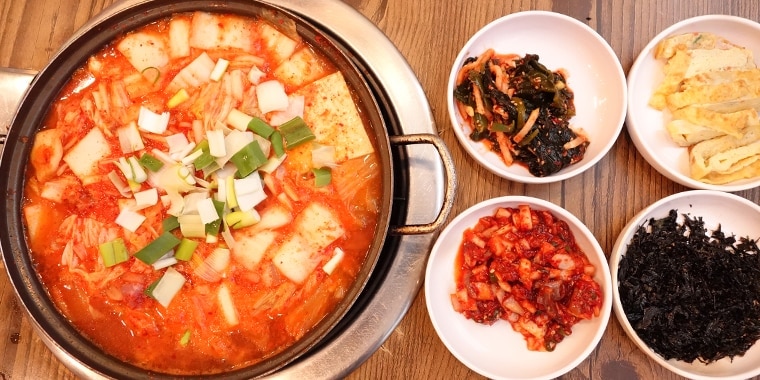 "Kimchi is a traditional Korean side dish of spicy pickled baechu cabbage (napa cabbage) or any other kinds of vegetables. It's an essential accompaniment for every Korean main course", explains Bokyung. "In Korea, every household has their own recipe for kimchi, which means we have numerous variations of it".
Not only does kimchi taste good, but this fermented food is also said to be good for your health and skin. And the typical kimchi-jjigae contains pork (or fish), tofu and other vegetables, all of which make the stew even more nourishing.
Many people wonder if it is a little too spicy. Yes, kimchi has a certain amount of Korean chili powder called gochugaru in it, which is why kimchi-jjigae somehow looks like a dangerously spicy chili soup. "Don't worry. Not so much", says Bokyung. "Kimchi-jjigae may not be a special dish, but I'm sure it's one of the most beloved dishes in Korea. You must try it when you come over here!"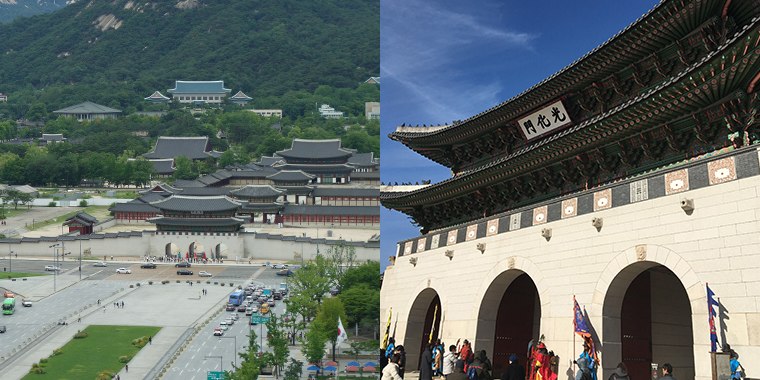 A panoramic view of Gyeongbokgung Palace, one of the most iconic landmarks in Seoul, from the MEK office (left). The Gwanghwamun area is named after this historic royal palace's main gate (right). Just behind Gyeongbokgung Palace, you can see South Korea's official residence, Cheong Wa Dae, a.k.a. the "Blue House". Bokyung finds Seoul, where the past and the present coexist, very attractive.
---
For more information